Recent Activities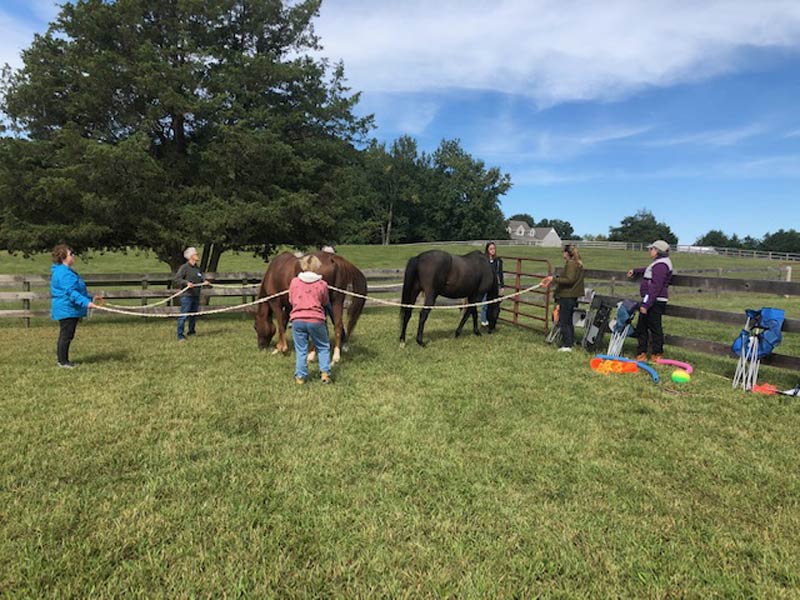 Learning to join, connect and still maintain social distancing in these trying times
was part of the Balancing Life workshop for mental health professionals.
"Awesome training. One I will not soon forget. Ready for another!!" ---Julia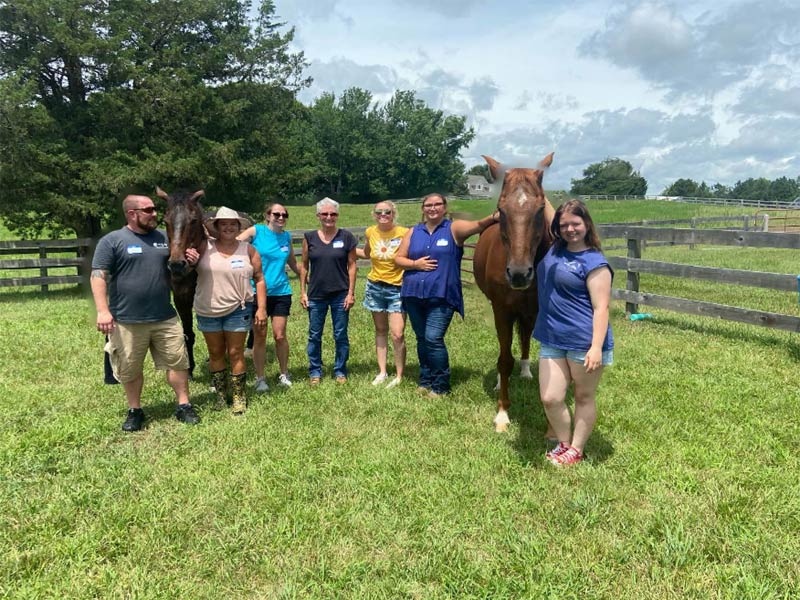 The staff of Horse and Soul Counseling participated in a workshop recently where we tried to
unravel the frustrations of the current pandemic and the influence it has had on mental health.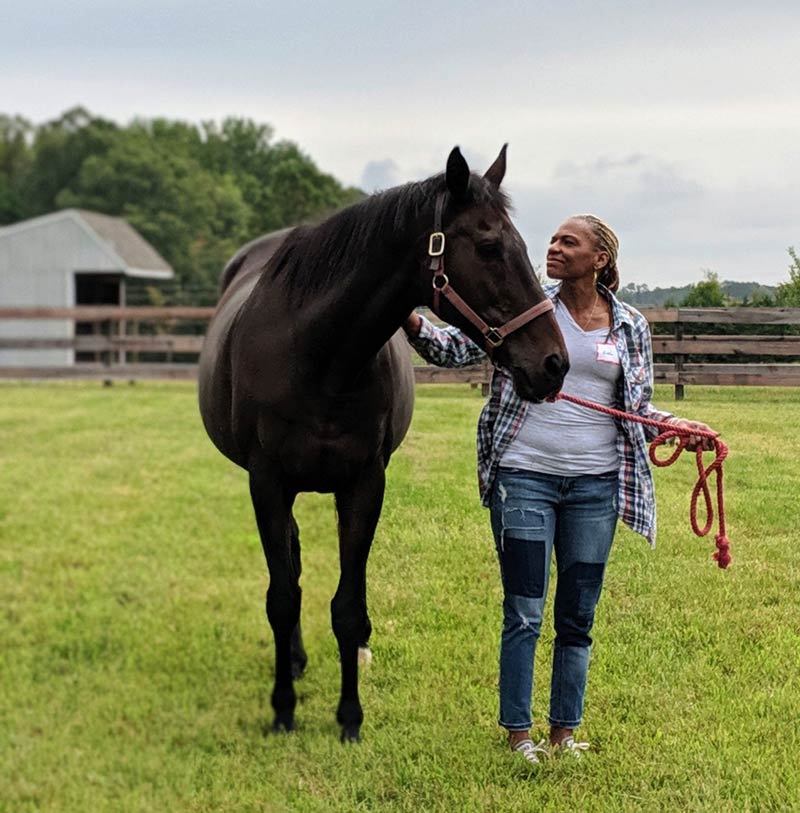 "My friends can't say enough about how much they enjoyed the experience.
Thank you for the work you do to change women's lives and help them find their voice."
--Veronica Bates-Gomez in reference to the September 15 workshop.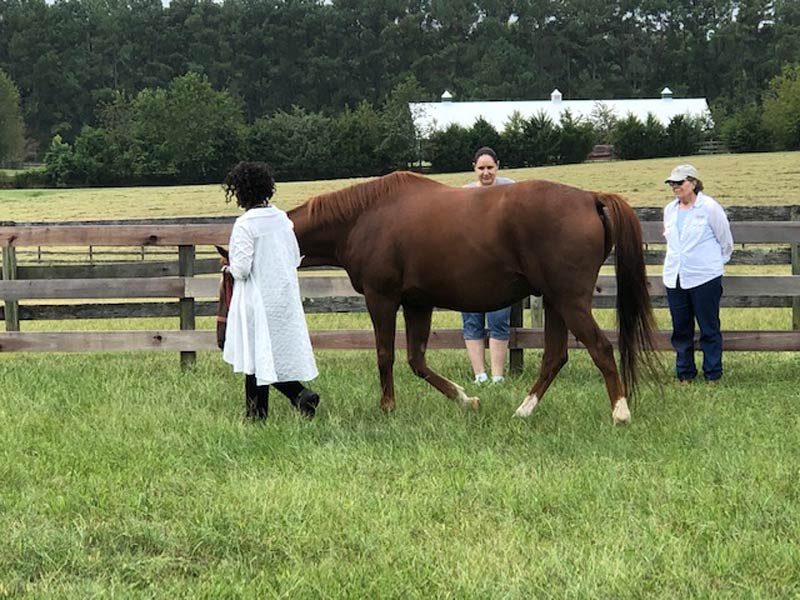 A participant in the September 15 workshop on Communicating Your Value
is learning how to get her boss to listen to her ideas.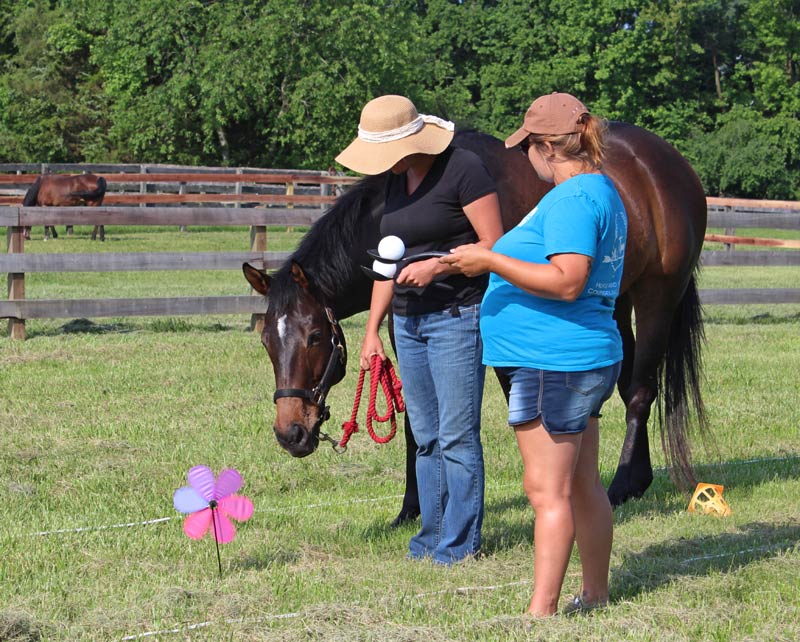 Participants in our workshop, Caring Too Much,
learned how to take care of themselves while serving their clients.
My team and I have now attended two training courses at Through the Gate for a total of 8 CEU's earned! The level of knowledge, professionalism, and interaction with the horses makes this one of the best ways to expand our knowledge and understanding in the helping professional field. The horses' responses provided insight into our own thoughts and feelings and supported my team and myself with coming up with our own solutions to acknowledge our compassion fatigue and recognizing counter transferences in our own private practice. My team not only consists of licensed professionals, but professionals who have horse experiences. This combination approach of having various backgrounds allowed for additional insights, learning opportunities, and growths for my whole team verses just the licensed individuals. Thank you Anne and Mary for your support and thoughtful feedback. We look forward to more experiences at your farm!
--Tara E. Higgins, MA, Licensed Professional Counselor


I participated in a ďmindfulĒ workshop today at a horse farm. If you know me At All, you must know that Iím not much of meditator (is that a word?) I normally confuse the word meditation with mediAtion And mindful??? I thought that meant obeying your parents. Ha, you think Iím joking. Nope. Needless to say I didnít know What to expect when I agreed to attend this workshop. Long story short, it was one of the most wonderful experiences Iíve had in years. My mind stopped racing for almost an entire hour and Iíve never felt such peace in being still and Living In The Moment. This could be a game changer. Thanks LPH for encouraging me to try new things
#mindfulness
#throughthegates#horsemindfulness
#stillness
#liveinthemoment
#trysomethingnew@Through the Gate, LLC
Call us or email to learn more or book an appointment and begin your journey.

Call us at 804-749-3324

E-mail us at ttgequine@gmail.com

Find us on Facebook - www.facebook.com/ThroughTheGateVA
Home | eagala | Facility | Facilitators | Calendar | Recent Activities | Team Building | Women's Empowerment | Links | Contact Us
© Through the Gate LLC ~ All Rights Reserved