Through the Gate LLC Facilitators
Facilitators are Dr. Mary Looman, a psychologist who has been conducting professional workshops for over 20 years, and Anne Tucker, an experienced and respected horsewoman. Both are eagala certified.
Dr. Mary Looman
Mary Looman has a PhD in Clinical Psychology and has been a licensed mental health provider for over twenty years. She has been an eagala certified provider since 2008 and has owned and trained horses for many years.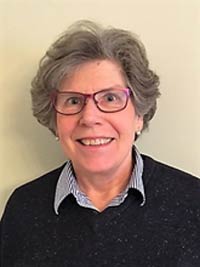 Other than a dozen years in mid-management in corporate America, most of Mary's career has been working work marginalized people in prisons, psychiatric hospitals, and in rural and inner-city communities. For over 14 years, she has taught at universities as an adjunct professor in the social sciences and criminal justice. Since 2013, she has been teaching at the University of Oklahoma for the College of Professional and Continuing Studies. In 2000, she received the Matilda B. Canter Award for Excellence in Education and Training from the American Psychological Association. In 2015, she co-authored a CHOICE Award book entitled, A Country Called Prison; Mass Incarceration and the Making of a New Nation (Oxford University Press). She has published a chapter in Kay Trotter's book, Harnessing the Power of Equine-Assisted Counseling (Routledge, 2012) and several peer-reviewed articles on a variety of social science and criminology topics. She is a passionate and well-received presenter and key-note speaker.
Dr. Anne Tucker
Anne Tucker received a Ph.D. in toxicology from the University of Kentucky in 1976. She worked for 20 years in the area of immunotoxicology at the Medical College of Virginia and the National Institute of Environmental Health Sciences, publishing over 30 papers in peer-reviewed journals.

Long interested in horse racing, Anne retired in 1996 to devote full time to breeding. From a small band of mares, 21 winners including 2 stakes winners were produced at her farm, Bowles Knob Farm.

She also served on the board of the Virginia Thoroughbred Association and is past president of the Deep Run Hunt Horse Show Association. As an advocate of Thoroughbred Aftercare, Anne was involved in founding the James River chapter of the Thoroughbred Retirement Foundation, a Second Chances program offering both unwanted race horses and inmates another chance. She served as president for three years and is still very active on this board. Recognizing the value of horses in healing the human spirit, Anne became interested in eagala and was certified as an equine specialist in July of 2017.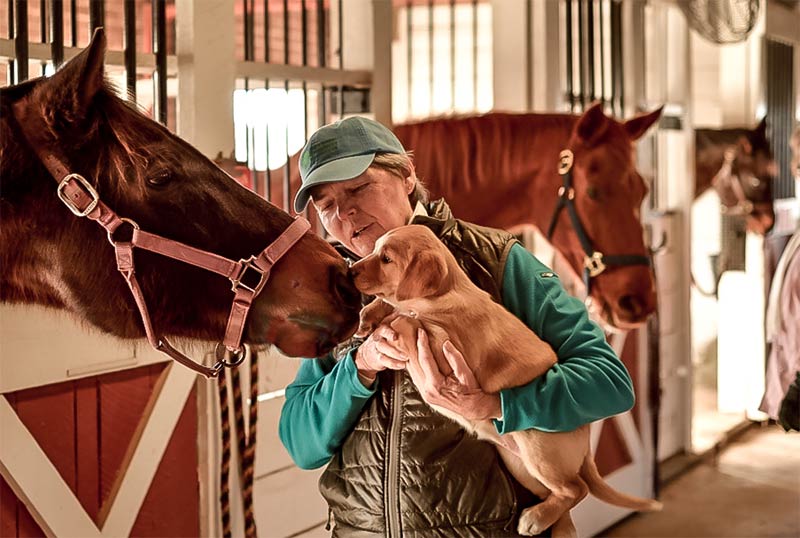 Anne introducing a new puppy to Covert Action at the James River Work Center.
The following article gives more information about Anne and Bowles Knob Farm: Catching Up With Virginia Owner/Breeder Anne Tucker & Her 2013 Colonial Downs "Horse of the Meet" Boltin' Out

Call us or email to learn more or book an appointment and begin your journey.

Call us at 804-749-3324

E-mail us at ttgequine@gmail.com

Find us on Facebook - www.facebook.com/ThroughTheGateVA

Photos are courtesy of Debby Thomas (www.animalartandphotography.com)
Home | eagala | Facility | Facilitators | Calendar | Recent Activities | Team Building | Women's Empowerment | Links | Contact Us
© Through the Gate LLC ~ All Rights Reserved